As if the law is everything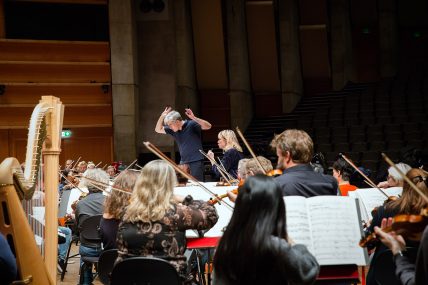 Text by Øyvind Rimbereid
Such was the first law:
To promise,
Such was the first law:
To be there
To be that promise.
And to keep it.
Such is the opening text line from the last section of the song cycle As if the law is everything, with music by Henrik Hellstenius and text by the Norwegian poet Øyvind Rimbereid. The piece evolves around questions and reflections upon law; how it governs the human life and all that surrounds us. The seven parts of the piece explores a wide-scoped poetic approach to the idea and concept of laws in its many forms; from the criminal law to the laws of nature, before it concludes with the quoted question above: if the first human law was a promise – a promise to be present for each other.
The song cycle is structured as a pendulum between portraits of three women – living in different relations to the criminal law, and more essayistic-poetic reflections over the nature of laws. These laws are the laws in nature that govern all that we see and can imagine, from the movement of the smallest electron to the giant volcanic eruptions that formed our planet. The three female portraits are of a thief, hiding from the authorities and all those who want to put her into a home or prison cell. A judge, reflecting on the fragile balance between doing right and wrong, and a murder victim that the law was not able to protect from her murderers.
The seven parts are:
The law
To be
The stars
The laws of Nature I.
She who fell
The laws of nature II.
Epilogue
The mezzo-soprano impersonates all these multitude of voices, and together with the orchestra the two moves from the intimate and subjective through the dramatic and intense to the more neutral and matter of fact. The music is multi layered and independent through the piece and not composed as an illustrating theatrical music. The vocal lines and sounds of the mezzo-soprano together with the colours of the orchestra are meant to widen the possible meanings of the words and its poetic images, creating dramatic tension and possible reflections.
long before Babylon's laws
and before all states' constitutional laws,
at the time when the law perhaps
meant "to love" ,
or also before this word
came or disappeared,
only this was the first law:
"to promise to be there".
33 Minutes
Solo Instrument(s): mezzo-soprano
Orchestration: 3(2pic.afl).3(ca).3(2Ebcl.bcl)3(cbn)/4330/4perc/hp.pf/str
Publisher: Edition Wilhelm Hansen Copenhagen
[soundcloud url="https://api.soundcloud.com/tracks/363411431″ params="color=999999&auto_play=false&hide_related=false&show_comments=true&show_user=true&show_reposts=false&visual=true" width="100%" height="80″ iframe="true" /]